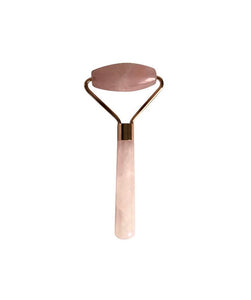 Rose Quartz is known as the "stone of the heart; a crystal of unconditional love." Ancient Egyptians believed this semi-precious stone has anti-aging benefits to cool, tighten and depuff the skin within seconds. Talk. About. GLOW!!  
Improve blood circulation and uneven skin tone with Switch2Pure's Single Handle Rose Quartz Crystal Facial Roller. This beauty tool maintains a youthful appearance due to its special properties that not only promote self-love but also increase cell turnover. Depuff, reduce the appearance of wrinkles, penetrate powerful product, help with lymphatic drainage with this authentic stone. 
Switch2Pure's Single Handle Rose Quartz Crystal Facial Roller releases toxins from the skin with continued use. Smooth fine lines, wrinkles and naturally contour the cheekbones and jawline. These rollers come with an amazing instructional diagram inside the box. Simply place the roller back in the box after each use so you can use the guide each time. 
HOW TO USE:
Start in the middle of the face and roll outwards across the cheeks.
Move to the eyebrows and roll upwards across the forehead.
Move below the lower lip and roll downward across the chin.
Roll over sheet masks, serums, oils, and creams to increase product absorption.
Store in the freezer overnight. Use cold in the AM to depuff the skin.
Due to natural variations in stone, every crystal facial roller is unique in pattern and color ranging from a translucent wash of color to an opaquer pink.