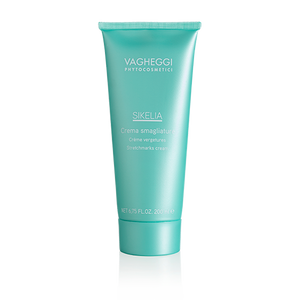 Nourishing and uniforming cream, it helps to prevent and combat unsightly stretch marks due to the sudden breakdown of the elastic fibers of the dermis typical of adolescence, pregnancy or following sudden weight changes.
6.75 FL.OZ
ACTIVE INGREDIENTS:
Empetrum nigrum berries: organic cold-pressed berry vegetable juice. It intervenes on all the causes that lead to the degradation of the skin tissue and therefore to the formation of stretch marks; in particular, it creates the best conditions for microcirculation and protects against the action of enzymes that degrade elastic fibers and mechanical stress - Shea butter and coconut oil: complex of super nourishing active ingredients - Vitamin E: antioxidant
HOW TO USE:
Apply once / twice a day on all risk areas, massaging with light circular movements. To optimize the result, you can combine the Stretch Marks Impact Concentrate by applying it to absorption.
RESULTS:
Prevents and counteracts the onset of stretch marks.
SAFETY AND EFFECTIVENESS:
SAFETY TEST: Dermatologically tested, Nickel tested EFFECTIVENESS TEST: Clinical test: + 22% firmness + 7% firmness in 28 days In vitro test on the action of prevention of stretch marks